Shea Bath
Regular price
Sale price
$10.00 USD
Unit price
per
Sale
Sold out
Once you try it, you will want more. Never greasy on your skin because your skin drinks it up. What you get is soft smooth skin that last for hours. Choose from one of delicious scents or unscented to calm your senses while providing health skin.
Ingredients: Olive Oil, coconut oil, aloe butter, Shea butter, wheat germ oil, avocado oil, apricot oil and fragrance or essential oils unless unscented
 Grab your favorites in a 4 oz, 8 oz or 16 oz jars.
WHIPPED SHEA BODY BUTTER
✅ WHAT MAKES OUR BODY BUTTER THE BEST
Premium Ingredients
Deep Hydration
Made in the USA
Quick Absorption and Non-Greasy Finish
Cruelty-Free and Ethical Practices
Long Lasting
✅ BODY BUTTER BENEFITS
Provide intense and long-lasting hydration
Highly Effective in Moisturizing and dehydrated skin
Soft, supple, and well-nourished skin
Absence of harmful chemicals, parabens,
Improve skin elasticity
Reduce the appearance of fine lines and wrinkles.
✅ INGREDIENTS 
Avocado Oil
Shea Body Butter
Coconut Oil
Aloe Butter
Olive Oil
Wheat Germ Oil
Sweet Apricot Oil
Essential or Fragrance Oil
✅ HOW TO USE 
Take a Nickle size amount of product to the palm of the hands
Rub product into the palm of hands until melted
Apply to damp skin (preferable) - knees, elbows, feet
Repeat process to all areas needed
Wait a few minutes to allow the product to absorb into skin like magic
Share
View full details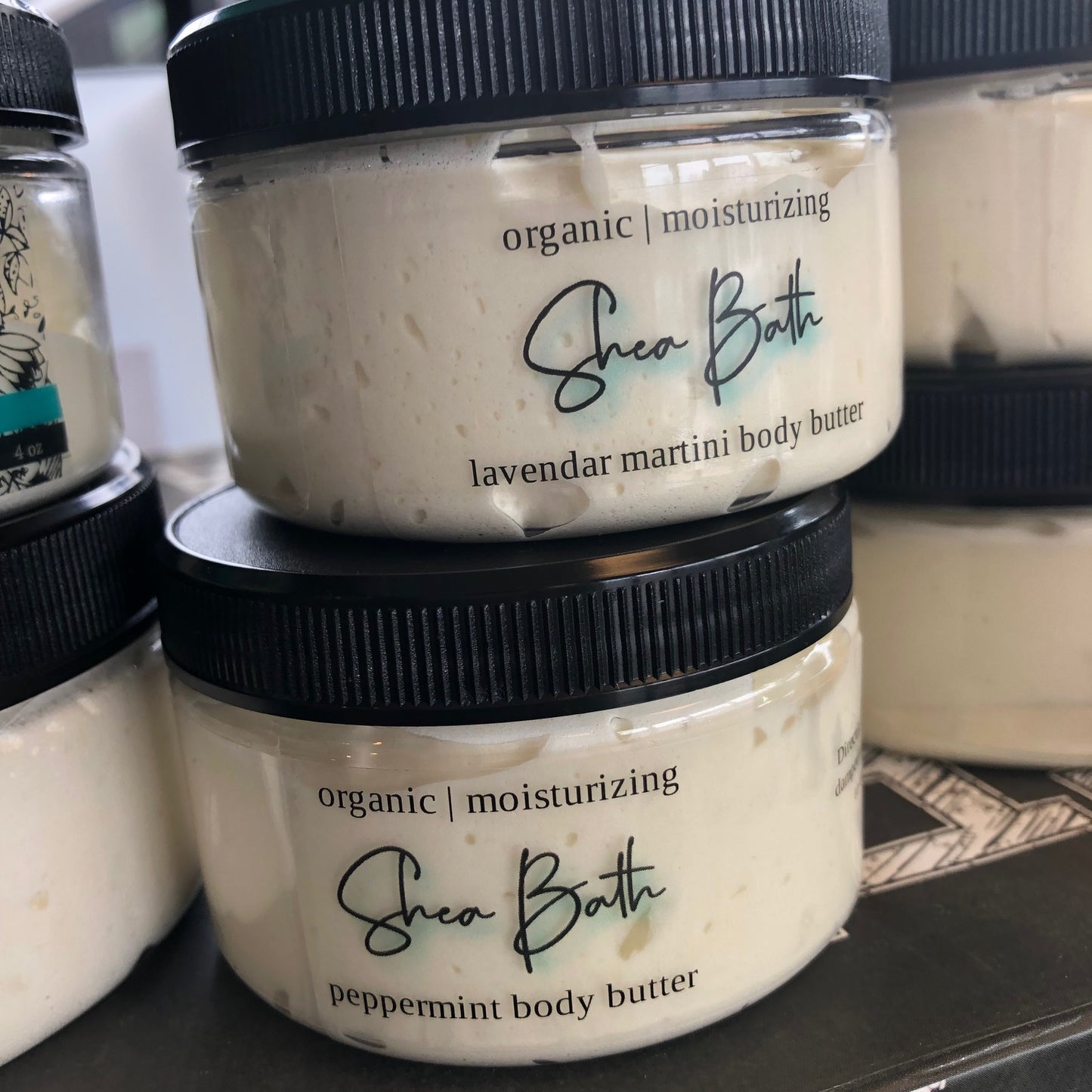 I love It!
The best Shea whipped butter I have ever used!
Amazing Shea Butter
Every last one of Shea Bath body butters smell amazing!!
I am currently in love with the sandalwood. Peppermint is right behind for my anxiety its soo refreshing and helps calm me. I love how the body butters makes me feel, and smell. Most importantly, I love how they help clear up my eczema also .
Lovely!
I love the Man Cave body butter!
Will purchase again
Tropical island right here in my house
whipped-shea-body-butter
I'm a fan of the whipped shea butter. No matter what scent you pick, your skin will thank you.
Mosturizing

Cleansing

Refreshing

Glowing
What other customers bought